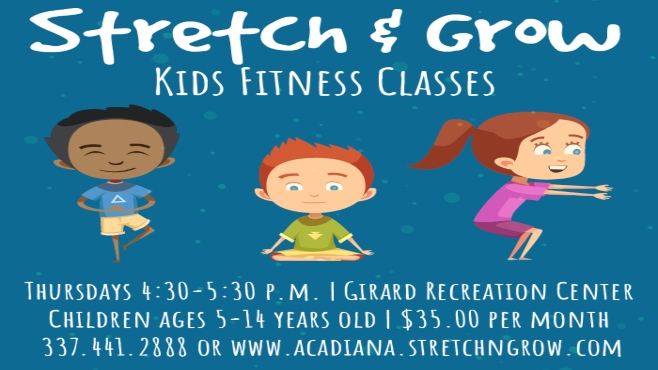 Children in America and all over the world are not as strong today. They do less exercise. Kids these days don't want to play outside. My children who are 9 and 11 years old, have to be forced out of the house on the weekends. I just want them to take a mental break from the phone, laptop, tablet, and television. They need fresh air and sunshine.
When I was a little girl, children played outside until dark. We played games, rode our bikes, and spent our days running, jumping, falling, swinging and sliding on the backyard swing set.
Times have changed. Neighborhoods are not safe. The iKids want to stay inside. So when I learned about the Stretch and Grow classes I know there are parents who will love this:
What: Stretch and Grow Kids Fitness Classes
When: Thursdays 4:30pm-5:30pm
Where: Girard Recreation Center; 500 Girard Park Dr.
Who: For Children ages 5-14 years old.
Additional Details: $35.00 per month; It is a fun, action-packed fitness class where kids learn strength, endurance, flexibitlity, balance and how healthy foods fuel their bodies.
For more Information: (337) 441-2888 or www.acadiana.stretchngrow.com