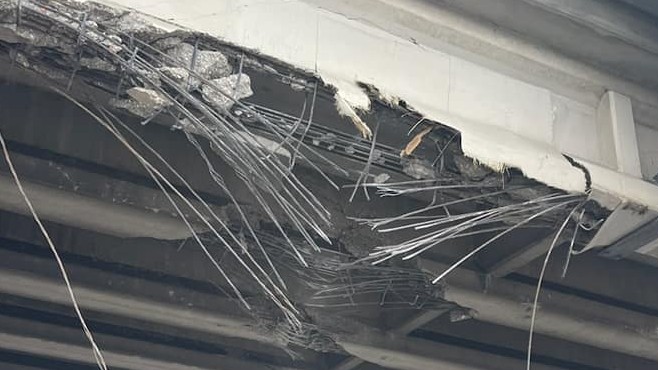 The overpass on I-10 is about to begin the process of getting repaired after an 18-wheeler that was hauling an excavator hit it last week.
After a lengthy investigation, it was determined that the impact resulted in catastrophic damage to three out of the eight girders. The DOTD announced on Wednesday that the repairs will take place in two phases.
The first phase of the project will include removing the damaged section of the I-10 overpass structure. There will be new girders and a bridge deck made and will be fabricated at an off-site location. This process is estimated to be completed in a few months.
While the new bridge components are being prepared, existing concrete barriers will be shifted to allow two lanes of traffic to operate on Interstate 10 eastbound. Under this temporary configuration, eastbound traffic will travel on two-11-foot lanes with a one-foot shoulder.
During this phase, the following areas will be closed: Interstate 10 eastbound overpass auxiliary lane (deceleration/acceleration lane), Inside lane of Interstate 49 northbound, I-49 northbound exit ramp from I-10 (Exit 103B), and I-10 eastbound on-ramp from I-49 (Exit 1A).
This phase is expected to take place from January 20th-22nd.
The second phase two of the project includes the final removal of necessary bridge components and installing the newly constructed girders and bridge deck. Once the last girder is removed, crews will once again utilize SPMT's to lift the new girders and bridge deck piece into place. After all pieces are securely in place, a concrete closure pour will be performed to tie in the new components to the existing bridge overpass.