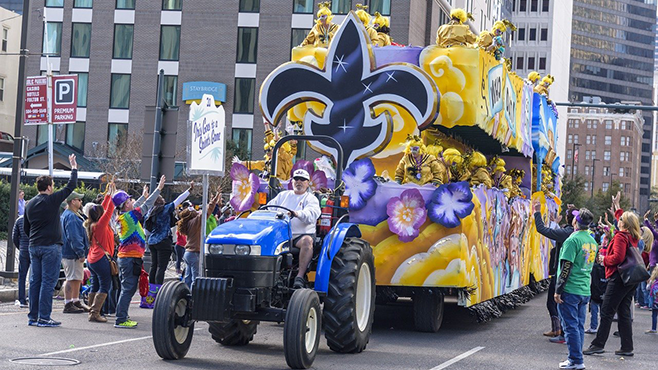 Mardi Gras celebrations will be very different this year. The Greater Southwest Mardi Gras Association and the Lafayette Mardi Gras Festival, Inc. have both canceled all their parades and balls this season. This includes all Lafayette parades as well as The Southwest Mardi Gras Association ball and the festival at Cajun Field.
The Greater Southwest Mardi Gras Association released this statement:
The Greater Southwest Louisiana Mardi Gras Association has organized a safe and family friendly Mardi Gras parade for 86 years.
This year, the COVID-19 virus has presented us with a unique and nearly unprecedented challenge. We were hopeful that conditions would permit parading through Lafayette and, with the parades, one of Lafayette's largest parties. However, after months of deliberation, counsel with government officials, the University, medical providers, and our member Krewes and, in light of the ongoing governmental COVID-19 pandemic restrictions that will likely remain in place for at least the next 45 days, we have determined that safe, family-friendly and quality parades cannot be staged during the Mardi Gras season this year.
Unfortunately, for these reasons, Greater Southwest has canceled all Lafayette parades for the February 2021 Mardi Gras season.
However, while parades will not roll, rest assured that Greater Southwest is working with member Krewes to provide safe alternatives to our traditional Mardi Gras festivities. Stay tuned for details to follow.
Lafayette Mardi Gras Festival, Inc., released this statement on their Facebook page:
Due to the Health and Safety of ourselves as Mardi Gras Krewe Members, Our Participants and their Families, and the citizens of Acadiana it is in our best interest and everyone around us to CANCEL Mardi Gras pageant/ball/parades this season. We look forward to working with our Participants and Parents, Fellow Krewes, and Parish Government to make 2022 an even better Carnival Season. We will aggressively be moving forward to begin accepting applications for King & Queen, Participants, and Potential Memberships…Stay Safe & Enjoy The Carnival Season! Albert Babineaux – President