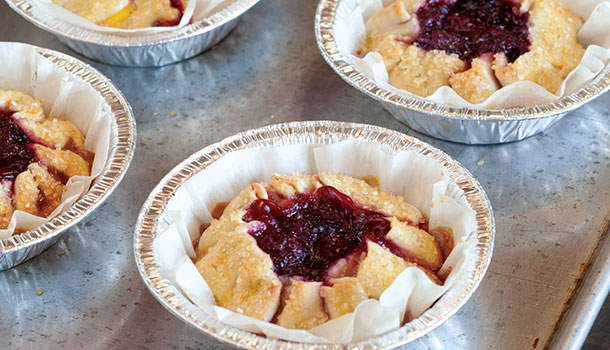 It's festival season. Have a good ole sweet time at the Annual Sweet Dough Pie Festival. Returning for 2021, Saturday, October 9 in Grand Coteau from 9 am until 3 pm. The festival will be held at the KPC Hall 252 Church Street in Grand Coteau, Louisiana. Admission is free.
The Sweet Dough Pie Festival celebrates the very special, uniquely Louisiana dessert, the Creole Sweet Dough Pie. Every chef has their own personal spin on the original recipe for these fruit-filled, mini pies. There will be a Pie contest and live music, vendors, and more.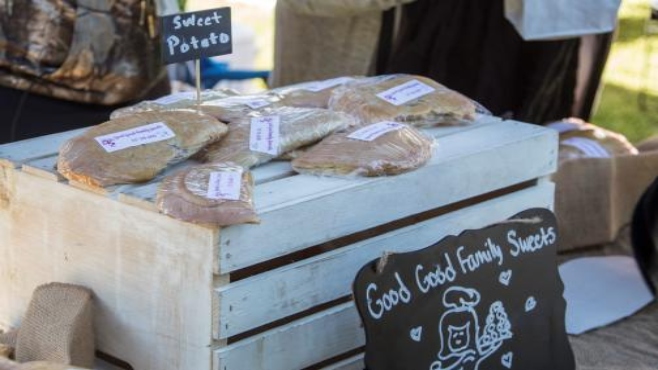 This event also celebrates the unique history of historic Grand Coteau and a traditional treat called, sweet dough pie. Every year pastry chefs and home cooks vie for the title in the sweet dough pie contest. A large variety of pies will also be available for purchase including fig, custard, lemon, blackberry, and other local, seasonal ingredients. Browse through more than 70 vendors of arts, handmade items, flowers and herbs, custom furniture, indoor and outdoor decor, while enjoying local cuisine and live music.
For more information contact the Grand Coteau Town Hall (337-662-5246) or Annette Charles (337-290-1674) leave message they'll get back with you.
source:/https://www.lafayettetravel.com/ www.louisianatravel.com www.cajuntravel.com www.louisianacooking.com
Sweet Dough Pies
Pie Ingredients
¼ cup unsalted butter, softened
2 tbsp. lard
¾ cup sugar
1 large egg
2½ cups all-purpose flour
1 tsp. baking powder
¼ tsp. salt
⅓ cup whole milk
½ tsp. vanilla extract
Cooking Directions for the Pies
Makes 12 small pies
Chef: Nancy Brewer
In a large bowl, beat the butter, lard, and sugar at medium speed with an electric mixer until creamy. Add egg, and beat until fluffy.
In a medium bowl, sift together flour, baking powder, and salt. In a small bowl, combine the milk and vanilla. Add one-third of the flour mixture alternately with one-third of the milk mixture, beating just until smooth, scraping the bowl occasionally. Be careful not to overmix. The dough will be soft and sticky.
Scrape the mixture onto a lightly floured surface, and work into a disk. Cover with plastic wrap, and refrigerate for two hours.
Filling Ingredients
6 cups blackberries, divided
1 cup sugar
3 tbsp. cornstarch
5 tbsp.water, divided
1 tsp. lemon zest
1 tsp. ground cinnamon
¼ tsp. ground nutmeg
2 tbsp. butter
½ cup all-purpose flour, for rolling
1 large egg
1½ tbsp. turbinado sugar
Cooking Directions for Filling

In a medium saucepan, combine 2 cups of blackberries and sugar over medium heat. Slightly muddle the blackberries, and stir until the mixture comes to a boil. Reduce your heat to medium-low, simmer, stirring frequently, until the sugar dissolves. This will take about five minutes.
Combine the cornstarch and three tablespoons of water in a medium bowl. Whisk the cooked blackberry mixture into the cornstarch mixture. Return the blackberry mixture to pan, and add zest, cinnamon, and nutmeg. Cook, stirring constantly until the mixture boils, roughly one minute, and thickens.
Remove from heat. Next, add butter, and stir until melted. In a large bowl, add the remaining four cups of blackberries. Gently stir in the cooked blackberry mixture. Set aside, and let it cool to room temperature.
Preheat the oven to 400°. Cut 12 (5-inch) circles from parchment paper, and set aside. Divide the dough into 12 equal pieces. With floured hands, roll each piece into a ball. On a heavily floured surface, using a floured rolling pin, roll each dough ball to a five-inch, eighth-inch-thick circle. Place each circle of dough onto a parchment piece. Gently fit dough and parchment into five-inch pie pans. The edges of dough will look ruffled. Fill each pie with one-fourth cup blackberry filling. Fold dough edges in the center toward the center of each pie.
In a small bowl, whisk together egg and remaining two tablespoons of water. Lightly brush dough with egg wash. Sprinkle turbinado sugar equally over each pie. Place six pies on each baking sheet, and bake until lightly browned, about 20 minutes. Let the pies rest on a baking sheet for five minutes. Transfer to wire racks, and let them cool completely. Repeat this process with remaining pies.
source:/https://www.lafayettetravel.com/ www.louisianatravel.com www.cajuntravel.com www.louisianacooking.com